06.04 2022, 20:00
HONG KONG AND ITS FIGHT FOR DEMOCRACY: CHUNG CHING KWONG ABOUT HER EXPERIENCES OF BEING A PRO-DEMOCRATIC ACTIVIST,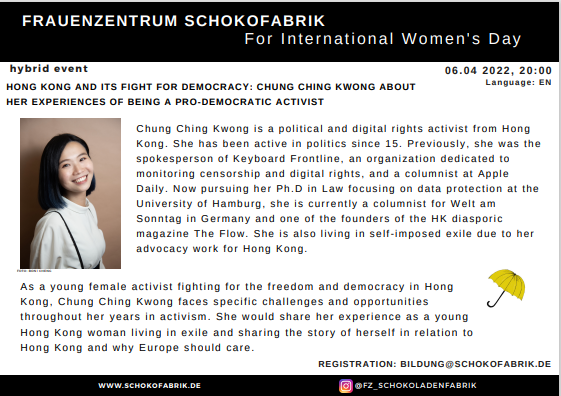 Chung Ching Kwong is a political and digital rights activist from Hong Kong. She has been active in politics since 15. Previously, she was the spokesperson of Keyboard Frontline, an organization dedicated to monitoring censorship and digital rights, and a columnist at Apple Daily. Now pursuing her Ph.D in Law focusing on data protection at the University of Hamburg, she is currently a columnist for Welt am Sonntag in Germany and one of the founders of the HK diasporic magazine The Flow. She is also living in self-imposed exile due to her advocacy work for Hong Kong.
As a young female activist fighting for the freedom and democracy in Hong Kong, Chung Ching Kwong faces specific challenges and opportunities throughout her years in activism. She would share her experience as a young Hong Kong woman living in exile and sharing the story of herself in relation to Hong Kong and why Europe should care.
This event will be in English. If you would like to take part please sent us a Email to: Diese E-Mail-Adresse ist vor Spambots geschützt! Zur Anzeige muss JavaScript eingeschaltet sein! or a message on instagram: fz_schokoladenfabrik.